WrestleZone According to the @TalkMMA Twitter account, WWE Universal Champion Brock Lesnar and Paul Heyman were at UFC Headquarters to meet with UFC officials during International Fight Week earlier this month.The Twitter account added, which at this point should be taken strictly as a rumor, that Lesnar is expected to return to The Octagon "imminently", likely at the November 4th event at Madison Square Garden. The report claims Lesnar will drop the WWE Universal Title at WWE SummerSlam next month, and that he is back in the testing pool with the US Anti-Doping Agency (USADA).As noted, Brock Lesnar, who is 5-3-1 in his MMA career, was suspended from fighting for one year following his positive anti-doping tests issued for his fight against Mark Hunt at UFC 200. Lesnar's win over Hunt was subsequently overturned following his drug test failures, but Lesnar's suspension is now over, and he is free to fight again. It was reported back in July 2016 that Lesnar was simultaneously under contract with UFC and WWE, and was eyeing another fight sometime in late 2016 or 2017, however this news came before Lesnar's drug test failures were announced.It should be noted that according to UFC rules, a fighter must inform the promotion at least four months in advance if he plans to come out of retirement, so the fighter can be reinserted into the USADA drug testing pool.
Word is that the beast incarnate Brrrrrrrrock Lesnar and his advocate Paul Heyman were at UFC headquarters over the weekend. Exactly what they were there for hasn't been released. But the rumor and I must reiterate that this is a rumor and in the rankings of rumors a rumor about a wrestler is as trustworthy as the prison rat, states that Lesnar will drop the WWE Universal T̶i̶t̶l̶e̶ Championship at Summerslam and is back in the drug testing pool with the US Anti-Doping Agency. That's important because last year Lesnar defeated Mark Hunt at UFC 200 but it was later overturned to a no-contest after the Next Big Thing failed a few pesky drug tests and was swiftly suspended for a year from the UFC. The reason for all of this is apparently Brrrrrrock Lesnarrr is eyeing a return to the octagon, specifically November 4th at MSG.
Like I said, wrestling rumors are generally worthless to take to heart. At any given moment there are at least 50 different rumors about every wrestler living or dead. But this makes a lot of sense to me for a 1 simple reason. It's the reason it always is, the money. Brrrrrrocccck Lesssnarrr current WWE contract runs out after next years Wrestlemania but many believe that Vince will do everything he can to resign Brrrrrrocccckkk LLLLesssnaaarrr to another deal. He gets people to tune in. So if he can go and make 2.5 million, which is what he made in the one fight he had last year, I think it stands to reason that if he can he will go and make another 2 million or so. He puts butts in the seats for UFC as well and since Dana White doesn't really have any star power besides McGregor fighting Mayweather in a boxing match, I think he'll roll out the money truck to get Brrrrooccckk LLLeeeesssnar back in his cage. It could be against anyone or anything. Put him against a bear with chainsaws for hands for all anyone cares. I'll watch it.
I don't care at all about UFC. I respect the athletes who do something I would never ever ever ever ever ever do, but it just doesn't peak my interest. I like wacky story lines that have no earthly reason of happening like WWE. Maybe if the UFC started having the fights in different venues instead of a cage. Like they had fights at bars, bowling alleys, grocery stores, Hollywood backlots, cemeteries and boiler rooms, I'd watch it. But when Brrrrroock Lesnnnnarrrr fights, I put my Suplex City shirt on and watch all of it. I even watched the CM Punk fight just to see one of my wrestling guys.
*Here comes the pain….. possibly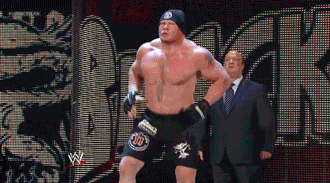 @2ndSatSports
@2ndSatSurnn