I've been looking to write a Christmas blog but didn't know exactly on what topic. Then I started thinking of gifts that I've received throughout my life and instantly I remembered what my favorite gift of all time has been, and the blog idea was made. And that gift which was the best was the Talkboy made famous by Kevin McCallister from Home Alone 2. A close 2nd on my list of best Christmas gifts was my Proton Pack from Ghostbusters. That contraption protected me and my house several times in my life, but the Talkboy taught me lessons in covert intelligence gathering. Skills that I still use today. Just look at the stuff you get accomplished.
In 1992, I was just a young lad in the need of tools for reconnaissance missions throughout my house. I knew people were saying stuff about me when I wasn't in the room but I had no way to prove it. Then Kevin McCallister had one of his many ordeals in Home Alone 2 and with that showed off one of his tools he used to practically run circles around his aloof family. That tool was the Talkboy. Capable of recording an individuals voice seemingly from miles away, the Talkboy was the perfect device for getting people's words on tape thus making you public enemy #1 in your household. Fine with me because I like a target on my back. I wear it well.
There were two reasons that the Talkboy was the perfect piece of equipment in your fight to expose the truth of your relatives. The first was how mobile it could be. The Talkboy had a handle on the back of it that you slipped your hand under and you could grip the top and bottom of it with your hand all while still being able to run up and down your steps at blazing fast speeds. You never had to worry about dropping it and the quality was better than the recorders in Nixon's office. The second thing that separated the Talkboy from other CIA and FBI spy equipment was that the part that recorded could be extended another inch meaning you could record people in other counties if you wanted. Just look at that pliability.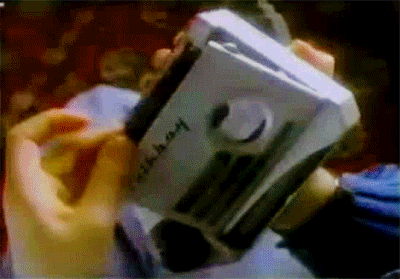 Sadly, I don't have my Talkboy anymore. I feel if I did, I'd be even more productive in my daily life. I have to believe that somewhere out there some genius is still utilizing the powers that the Talkboy has and taking over their family gatherings. I'll raise my teacup of nog later on tonight when I'm airing my grievances to the folks who are still recording people and distorting their voices via the Talkboy.
PS- Thank you Kassem G for finding the fantastic extended version of the commercial ad for the Talkboy
@2ndSatSports